It has been about seven years since I wrote about a girl named Jes' challenge on advertising, specifically calling out Abacrombi & Fitch. In that time I admittedly eased back into not noticing what size models were or really focusing on the impact that all these extra thin models might be having on, well, on anyone.
A few years ago I found myself gaining weight as I began to tackle my mental health. What started as an additional 15 or so pounds quickly became 40 and even more quickly did I feel disgusting with myself. Everyone around me and every female image I saw in the media was thin. Not a single person was plus-size and not a single person was reflective of me. I don't feel like I am some weird anomaly, but maybe I am wrong?
Plus size models are no longer hard to come by, thanks to platforms like Instagram. There are literally articles dedicated making readers aware of who these strong females are. 
But, what is "plus size"? The "definition" seems to vary, depending on where you go or what you are looking at. In some cases women's size 12 is the start of plus sizes and in other cases a women's size 16 was where the fun began.
This explained why I never saw myself reflected in those plus size models. I may respect them all day long and think they look fantastic, but I never think, "oh that could be me" (or whatever it is that one might think).
I have been searching the internet for sports bras, athletic bottoms, underwear… basically all clothing since the pandemic. Over and over again the imagery I see is of thin fit women. Towards the end of the selection I might see the lower half of one heavier set women, but that is it – one. The one model they used still isn't representative of my body type. You would think that at least in the world of athleticwear they would advertise to those who are fit and those who are trying to get fit.
There is a gap in clothing and image representation – females who are size 6 to size 14 or the in between sizes. The size that clothing manufactures haven't quite planned for and the size that just is not a demographic that is targeted to. That, that right now is where I fall.
Lee makes a line of jeans called Flex Motion that are modeled by women of all shapes and sizes. They are also made to fit women of all shapes and sizes. I can attest to this.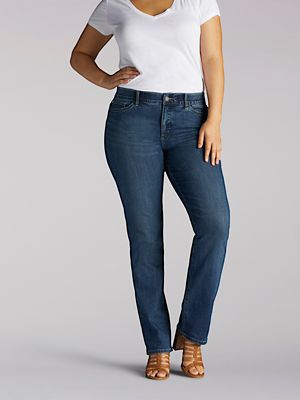 I think I could have legit lived in these.
See, I was going on a trip to Atlanta to meet my boss for the first time and some other big wigs from the company. The office dress code was "dress for your day" and in my office that meant jeans. I don't work in the office though, I work from home and my jeans are from when I was about four sizes smaller (maybe more). With little notice, I had one weekend to find new pants that fit, I liked and looked professional enough that I wouldn't look like the kid in the room. I picked up three pairs of these pants, one khaki, one charcoal and one pair of good ol' jeans. I wore them for the plane ride, I rotated through them during the week. They were fantastic. I think I could have legit lived in these.
Seven years later I think that there is still a ways to go regarding female body representation. I think there are efforts being made, but the inclusivity still isn't there. For now, for me this means I continue to work out, I continue to try and lose shape, but not with the goal of being a size 2 again, but with the goal of being healthy. Because at the end of the day, it shouldn't matter to anyone, including me, what the size of my pants are or what the scale says if I am happy and healthy.